Free FlipPDF Converter -
freeware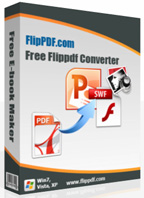 Price: $0
Best comprehensive free document converter to convert PDF to word, PPT, Flash and image.
Flexible convert modes: Batch Convert Mode, Hot Directory Mode and Command line Mode
Easily import and quickly convert
Perfect output quality
PDF to Word converter: Support various word documents
PDF to PPT converter: Retain content and hyperlinks
PDF to flash converter: Convert PDF to auto page flipping flash in few minutes
PDF to image converter: Convert PDF to various formats image ( bmp, jpg, png, tiff)
Completely free
If you want to convert PDF to flash page flip book, you can see: Flip PDF
Free FlipPDF converter is a fantastic and useful document converter to convert PDF to various documents such as word, PPT, flash and image. It's a comprehensive converter including PDF to word converter, PDF to PPT converter, PDF to flash converter and PDF to image converter. With this useful free document converter, you can easily to save your disc space and help you convert documents with convenience and ease. Moreover, the free document converter has friendly interface, you can convert PDF to word, or PPT, or flash, or image in several clicks without any code skills. The most important thing is that it's completely free to everyone. In addition, you can even define PDF convert range and you can convert PDF to image as different format images, such as bmp, jpg, png, tiff. If you're tired of reading plain PDF file or would like to edit PDF file, this free FlipPDF converter would be your best choice to make you enjoy reading PDF file in various style and edit PDF file with ease.
Main Features:
1) Easy-to-use document converter: convert PDF to 4 formats document perfectly
PDF to Word: support Microsoft word 2003/2007/2010
PDF to PPT: output presentation in few minutes with retaining graphics, hyperlinks etc.
PDF to Flash: Best free flash converter to help you publish plain PDF file to stunning page flipping flash and share with others easily
PDF to Image: convert PDF to image as bmp, jpg, png, tiff and define the image color as original color, or gray color, or Black-and-white color.
2) Flexible convert modes ( Batch convert mode, Hot directory mode and Command line convert mode)
Batch convert mode enable you batch convert PDF to word, or PPT, or page turning flash, or image. This mode would easily save your precious time to convert documents.
Hot directory mode which can help you to monitor a directory in server, when someone copy the PDF file(s), the file(s) will be converted to Word and sent to an output directory automatically.
Command line convert mode would enable you to convert PDF to word, PPT, flash, image without programming the free FlipPDF converter. It's a quick way for you to use command line to convert PDF file to word, or PPT, or flash, or image.
3) Support Partial conversion
Batch conversion of free FlipPDF would save you a lot precious time to convert PDF to multi-format documents, what's more, free FlipPDF would also provide you flexible way to convert partial pages of PDF to word, PPT, flash and image(s).
4) Merge images to one TIFF file
The free FlipPDF converter is the best converter to convert PDF to images, as it not only to convert PDF to four formats image (bmp, jpg, png, tiff) , but also can merge all images in one TIFF file. That would really convenient for you to organize output images.
If you need convert PDF to flash FlipBook, please see our full version: Flip PDF
Introducion to Flip PDF
---------------------------------------------------------------------------------------------------------------------------------------------------------------------------
The Professional Choice for Page Flip and Mobile App Publishing
Flip PDF is a digital publishing software that allows you to create realistic page-flipping e-Publications including E-Books, E-Magazines, E-Brochures, E-Catalogs, E-Reports, E-Newsletters. Flip PDF can convert PDF, images and SWF to digital editions directly. All links and table of contents will be imported into your publication automatically. Add/edit/delete links, audios and table of contents before publishing.
Flip PDF is a lifetime license software solution for the design and implementation of online digital flip page publications. Flip PDF Page Flip Software will convert your publications into dynamic digital editions with the look and feel of your original document. You will be able to utilize our cutting edge technology to easily create, upload, and host digital publications by yourself, in minutes.
Flip PDF offers fully customised desktop page turn direct from PDF files and fully customisable mobile apps for publications using our suite of apps for both Apple and Android devices.
At a Glance: Easy! Even a new user, you can use Flip PDF within a couple of minutes without any special learning.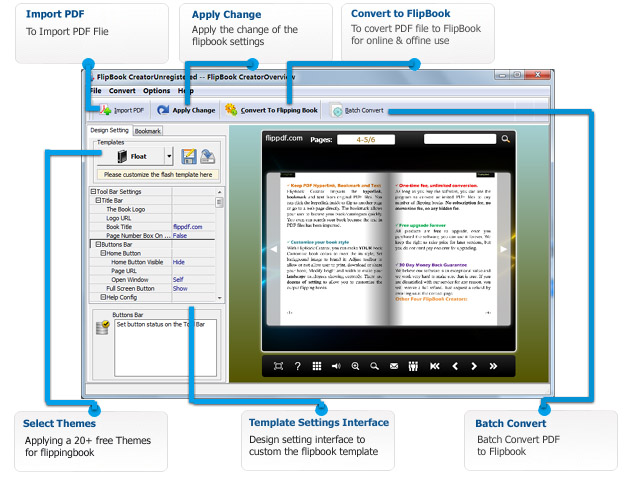 Key Features of Flip PDF
Ready to try or buy?