Free PDF to Flash Converter
Price: $0
The best solution to make flash book from Adobe PDF
100% freeware to convert PDF to Flash SWF format or Web format, then create digital flash magazine.
Automating the process of converting PDF to Flash.
Convert your PDF to impressive digital flash book in seconds.
Unlimited use desktop application. full multilanguage support.
Work with Hot Directories (watch-folder) and command-line mode to convert PDF to Flash.
Convert PDF to flash FlipBook, please see our full version: Flip PDF
FlipPDF to Flash Converter is a 100% free PDF to Flash converter can convert any Adobe PDF document into a Macromedia Flash (SWF) files. ThisFlipPDF to Flash Converter can create flash books through converting PDF to SWF flash video formats, which help you on changing simple PDF files into animate ebooks only few clicks with your mouse.

FlipPDF to Flash Converter support Monitor a directory for changes (such as while PDF copying into) and convert them into flash digital flash book in background.
Why FlipPDF to Flash Converter
I have faced the problem of putting PDF online. It seems that it's easy, but there a number of issues... I wish someone could help me with this. I've finally find out how to do things I need and I share my experience below.
The free PDF to Flash converter can very useful when you have to embed PDF files in web pages for inline viewing or you want to read PDF files on a computer that has no Acrobat Reader.
With this free PDF to Flash converter, users can make it extremely easy to share PDF files in flash on website or blog, send via email or burn on a CD.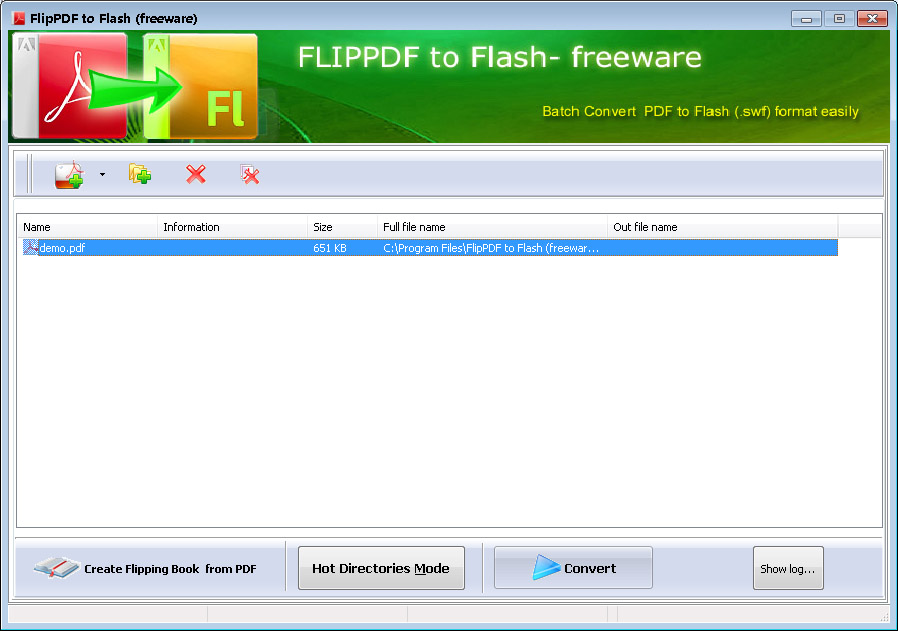 If you need convert PDF to flash FlipBook, please see our full version: Flip PDF
Introducion to Flip PDF
---------------------------------------------------------------------------------------------------------------------------------------------------------------------------
The Professional Choice for Page Flip and Mobile App Publishing
Flip PDF is a digital publishing software that allows you to create realistic page-flipping e-Publications including E-Books, E-Magazines, E-Brochures, E-Catalogs, E-Reports, E-Newsletters. Flip PDF can convert PDF, images and SWF to digital editions directly. All links and table of contents will be imported into your publication automatically. Add/edit/delete links, audios and table of contents before publishing.
Flip PDF is a lifetime license software solution for the design and implementation of online digital flip page publications. Flip PDF Page Flip Software will convert your publications into dynamic digital editions with the look and feel of your original document. You will be able to utilize our cutting edge technology to easily create, upload, and host digital publications by yourself, in minutes.
Flip PDF offers fully customised desktop page turn direct from PDF files and fully customisable mobile apps for publications using our suite of apps for both Apple and Android devices.
At a Glance: Easy! Even a new user, you can use Flip PDF within a couple of minutes without any special learning.
Key Features of Flip PDF
Ready to try or buy?