Free Flipping Book Publisher -
freeware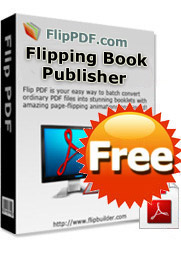 Price: $0
Page Flipping and Flash page flip technology software
100% freeware to create electronic flash magazines, catalogs, newspapers, brochures, documents from Rich Text Format (RTF) or text book.
Convert DOC(*.rtf; *.txt) into aInteractive digital publications with page flip effect for web in seconds.
Output optimized for your iPhone and iPad (supports iOS 4.x and 5.x devices) and Android
Page flipping simulation technology; 3D animated page-flip
Publish

DOC(*.rtf; *.txt)

to multiple file formats (Flash\EXE\ZIP\HTML).
Customize the backdrop, logo, preloader, background music, flip sound for your own branding
Flipping Book Publisher (freeware) allows you to build stunning flash flip books for both online and offline use in minutes. You don't need any additional software. Import your text book ( *.rtf;*.txt), configure book look & feel and publish. This is the best way to create digital ( electronic ) editions such as any type of publications, magazines, brochures and catalogues.
Flipping Book Publisher requirements to your site are minimal. You do not need PHP, ASP, mySQL or any other server applications to be installed. You do not need programming skills. The installation procedure is just a files copying on the server. The interface can be almost completely customized. Flipping Book Publisher output can be easily integrated to any existing design and brand style. You can use a variety of book interface settings. You are not tied to the other's servers and per-pages costs.
Feature:
1. Customized Viewer Interface : Customized viewer, allows you to change background and toolbar colors, add or remove graphics and features.
2. Import Logo : Import your company's logo directly into your digital edition.
3. Background Image : Allows you to insert any image directly on the background of your edition.
4. Search : Allows your readers to search for specific content within the edition
5: Thumbnail Browser Interface : Instant overview of the whole edition using small images.
6. Bookmark : Allows your readers to add bookmarks to your edition for easy reference and return to a specific page.
7. Printing : Readers can print single and multiple pages of your digital edition.
8. Send as e-mail : You and your readers can e-mail the digital edition to friends, customers and business associates.
9. CD Version : Mail your digital edition on a CD/ DVD for your customers viewing and reference. Save on paper and mailing costs.
10. Publishing with one Button-Click for online & offline use
11. Sharing on Email, Facebook, Twitter..
12. Download, Print, Fullscreen and Pageoverview controls.
13. Auto-Play support - automatically flipping pages
14. Multiple Methods of Distribution - Online publications may be published from your personal Web server, embedded on social media, placed on a CD/DVD/USB device or embedded into e-mail for fast, effortless, and eco-friendly distribution.
15. Easy Navigation - Online publications look and read like traditional magazines with turn page. Search functions allow readers to find key words, phrases, or sentences; a convenient index and hyperlinks help readers locate information quickly; a zoom function keeps the pages crisp, smooth, and easy to read.
If you need convert PDF to flash FlipBook, please see our full version: Flip PDF