Flipping Book Publisher for HTML5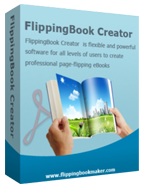 Price: $99.00
Create HTML5 based flash page flip book!
Help you publish HTML5 flip book that is supported by varying browsers, and that supports video and audio even without Adobe Flash.
Flipping Book Publisher for HTML5 is up-to-date software that can convert PDF to flipbook. And this flip book software has been improved to include more features so as to keep pace with the development of Internet and online webpage which is directed by the new developed HTML5 technology.
With the development of science and technology, Internet is playing a very important role in modern society. Many companies and developers have been devoting themselves to the research and development of network, trying to improve their performance and user experience. And thanks to their persistent efforts, HTML, Flash, JavaScript and other technology have been invented.
And now, a new network solution has been developed and is playing a more and more important part in network and Internet. That is the creation of HTML5 which has a lot of advantages over the previous web technology. And it's becoming the mainstream of the web application.
Developed by hundreds of corporate such as Google, Apple Inc and Nokia, HTML5 has a more integrated structure and provides developers and readers with better user experience. Although it is under improvement, it is going to replace other web application technologies such as previous HTML versions, flash and standalone mobile applications, because of its remarkable superiorities.
The advantages of HTML5:
Supported and applied by top Websites and search engines, well-formed syntax, faster net connection speed, more optimized stability, support of web video and audio, better replacement for Flash and Silverlight, flexible and controllable web composing, compatibility with mobile applications and games, powerful cross-platform ability, SEO friendly, etc.
HTML5 webpage is absolutely a good choice for your website. And now you can use our Flipping Book Publisher for HTML5 to convert PDF files to HTML5 based flash flip books which can be uploaded to you website too. It's user-friendly and doesn't require any programming skills.
This flipbook software does not only enable you to publish HTML5 flash flip book, but also allow you to customize the flash book with various settings: Choose flash template, add background image/flash scene/audio, change color, set book proportions, add switchable flash languages, etc. And if you upload the HTML5 flash book to online website, you can enable others to share via social networks such as Facebook, Twitter, and Digg.
At a Glance: Easy! Even a new user, you can use Flipping Book Publisher for HTML5 within a couple of minutes without any special learning.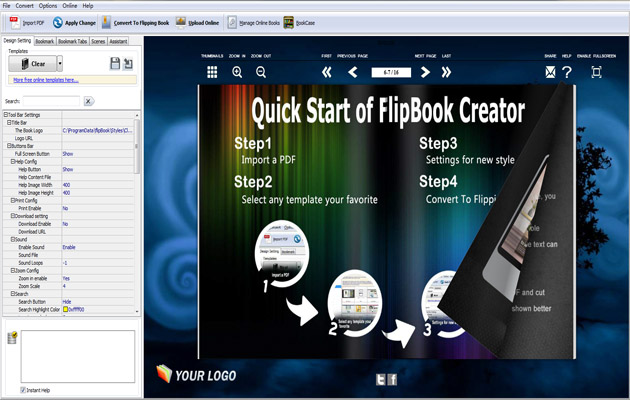 Ready to try or buy?