FlipPDF Free Image to PDF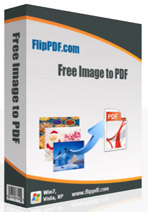 Price: $0
Transfer images to different PDF files or different images!
Change the image order flexible;
Batch converts images to one PDF;
Various image formats supported;
Export to images with revise;
Modify images in the software.
Convert PDF to FlipBook, please see our full version: Flip PDF
FlipPDF Free Image to PDF is a 100% freeware for users to modify images, and edit images to one PDF file or PDF files as much as the images quantity. In the software, you can flexible change the angle, color or size of the images and then export the images. Secondly, you can convert the single images to many different PDF files. The most mentionable function is the converter helps you to gather all images together to a collection PDF file that can be used as a product brochure or presentation.
Features of FlipPDF Free Image to PDF:
1. Batch Conversion
The FlipPDF Free Image to PDF supports batch convert images into PDF or changed images. Import the images one by one by clicking the right button and choosing add images option; import images in a large amount, you can put images in a folder and import it in one time with the quick operation-"Convert a folder of images files to PDF" under the "File" and then choose a folder to output.
2. Convert Images to Progressed Images
In FlipPDF Free Image to PDF, the special feature allows you to revise images. You can zoom in to view the image carefully, and then you can do the modification as crop, rotate, change the angle, vary the size, enhance or lower the contrast, improve or weaken the lightness, alter the color mode of the original image. When you do these changes to your images in the software, you can also preserve theses images.
3.Change the Order of Images
FlipPDF Free Image to PDF is a flexible flash converter application that you can easily and quickly change the images order as you wish. If you want to sort them automatically, you can sort them by the size, name or create time of the images, which is full of choices.
4.Convert Images to One PDF
In FlipPDF Free FlipBook Maker every image can be output together in one PDF which offers you a way to make image albums. And it would be a useful and helpful image catalog of products, and at the same time the images in PDF would let you be much more professional than images still as images to be shown to others.
5.Protect Your Images of Products
If you give your images one by one, it seems you are not professional and maybe other competitors would copy your images, while put the images in a PDF, the embezzlement of your images would be reduce or avoid efficiently.
6.Convert Images to Plenty PDF files
The FlipPDF Free Image to PDF is smart image to PDF converter for it contains a wise option for users to convert images to one PDF of image album, images still to be images and also a plenty of PDF files that correspond to every selected image. When you choose to output corresponding PDF files to every image, you can get as much as PDF files as the amount of the imported images. And you can use every PDF of Image separately.
If you need convert PDF to FlipBook without page limited, please see our full version: Flip PDF
Introducion to Flip PDF
---------------------------------------------------------------------------------------------------------------------------------------------------------------------------
The Professional Choice for Page Flip and Mobile App Publishing
Flip PDF is a digital publishing software that allows you to create realistic page-flipping e-Publications including E-Books, E-Magazines, E-Brochures, E-Catalogs, E-Reports, E-Newsletters. Flip PDF can convert PDF, images and SWF to digital editions directly. All links and table of contents will be imported into your publication automatically. Add/edit/delete links, audios and table of contents before publishing.
Flip PDF converts PDF to 3D flipping books, and preserve your files as high-quality vector SWF files.
You can take fully control over the conversion process and output setting, whether change the flipping style, or insert user information. Moreover, the flipping books are available for both online and offline use.

Flip PDF offers fully customised desktop page turn direct from PDF files and fully customisable mobile apps for publications using our suite of apps for both Apple and Android devices.
At a Glance: Easy! Even a new user, you can use Flip PDF within a couple of minutes without any special learning.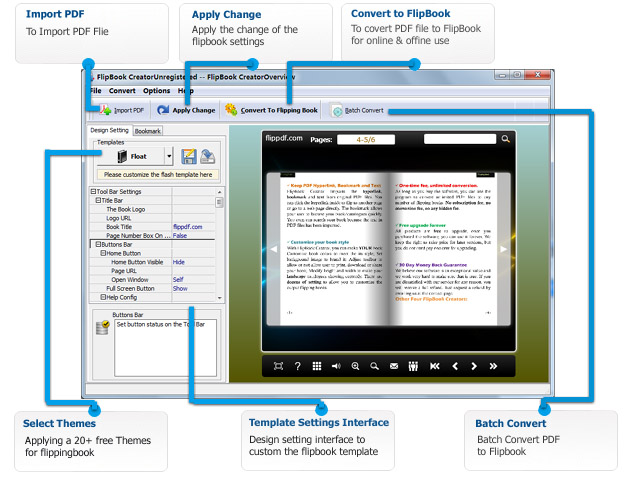 Key Features
Ready to try or buy?