FlipPDF Free Image to Flash Converter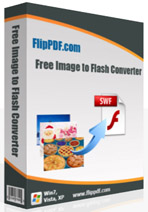 Price: $0
Turn image to flash fast and free!
Support batch convert;
Hot Directories mode converts images from the input folder to a flash automatically;
Command line to run the software;
Convert JPG format images into a flash.
Convert PDF to FlipBook, please see our full version: Flip PDF
FlipPDF Free Image to Flash Converter is a free flash converter application for creating Shockwave Flash (SWF) video from static images or gif animations. You can import JPG type images to change them into Flash. And the interface is easy to handle, batch convert, hot directories and command line for different users with different destinations.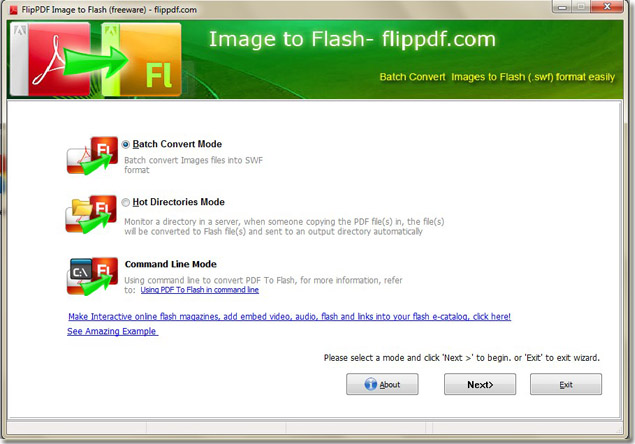 Features of FlipPDF Free Image to Flash Converter:
1. Smooth Flash
FlipPDF Free Image to Flash Converter converts your plenty of image to flash in one time. It saves you a lot of space, and the pictures are in one flash is more convenient to view. The converted flash turn images automatically which is really a smooth slide show of images.
2. JPG Format Images Supported
In FlipPDF Free Image to Flash Converter, you can import every image from different folders, but these images should be JPG format. After import the images they would be in list with information of the image name, image size and folder of the images.
3.Batch Conversion
FlipPDF Free Image to Flash Converter supports you to batch convert JPG images to a Flash. You can quickly add images to the list, and you can delete images one by one or delete all with one click to the delete all button. Moreover, right click can helps you to open a new image folder or add a whole images folder.
4.Hot Directories
Hot Directories in FlipPDF Free Image to Flash Converter needs you to pick the path first. The Input directory is the place where you put all the pre-convert images, out directory will surprise you the converted flash of your images and the log file path preserve the log data. Once you set for these, when someone put new images in the input directory, the out directory would add a new flash contains the new image for you automatically!
5.Command Line Mode
The FlipPDF Free Image to Flash Converter supports you to operate the free software with the command line mode. The function of command line is designed for advanced users. It can automatically fulfill the entire conversion process without manual operation without cost any extra time from users. The function can be defined in Command Line, so you can better convert flashes.
If you need convert PDF to FlipBook without page limited, please see our full version: Flip PDF
Introducion to Flip PDF
---------------------------------------------------------------------------------------------------------------------------------------------------------------------------
The Professional Choice for Page Flip and Mobile App Publishing
Flip PDF is a digital publishing software that allows you to create realistic page-flipping e-Publications including E-Books, E-Magazines, E-Brochures, E-Catalogs, E-Reports, E-Newsletters. Flip PDF can convert PDF, images and SWF to digital editions directly. All links and table of contents will be imported into your publication automatically. Add/edit/delete links, audios and table of contents before publishing.
Flip PDF converts PDF to 3D flipping books, and preserve your files as high-quality vector SWF files.
You can take fully control over the conversion process and output setting, whether change the flipping style, or insert user information. Moreover, the flipping books are available for both online and offline use.

Flip PDF offers fully customised desktop page turn direct from PDF files and fully customisable mobile apps for publications using our suite of apps for both Apple and Android devices.
At a Glance: Easy! Even a new user, you can use Flip PDF within a couple of minutes without any special learning.
Key Features
Ready to try or buy?