FlipPDF Free FlipBook Maker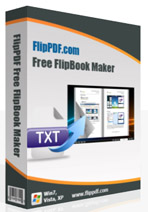 Price: $0
Free for you to convert text files into page flipping books!
100% Freeware to change the text into page turning flipping book;
Batch convert text files into perfect page flipping books;
Individual set the toolbar and appearance of your flipping book;
Make hardcover, right to left flipbook with ease;
Import watermark, bookmark and links.
Convert PDF to FlipBook, please see our full version: Flip PDF
FlipPDF Free FlipBook Maker is a free flipbook maker which gives you an easy-to-use way to convert Text to Flash flipbook with animate page flipping effects with basic computer skills. This type of flip book converter turns your Text documents to flipping online magazines, books, newspapers, catalogs and other publications for online sharing. And FlipPDF Free FlipBook Maker converts Text files into digital page flip publications with hardcover in minutes, and the publication can be output in HTML, ZIP and EXE formats.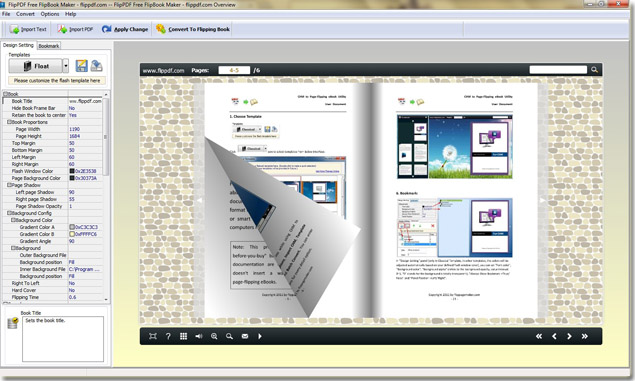 Features of FlipPDF Free FlipBook Maker:
1. Realistic Page Flipping Effect
The previous characteristic of the FlipPDF Free FlipBook Maker is the realistic page flipping effect. In this software, we offer you a quick and easy method to change the stupid text to be an abundant flipping book. You can experience the real-book-reading feeling. Turning pages by click the page corner or the quick button. Compared with traditional text, flipping book is easy for you to read.
2. Batch Conversion
FlipPDF Free FlipBook Maker can enable you to batch convert text to flipbook fast. You can pick files one by one, and also you can add the files by adding folders. Before your conversion, the output formats can be chosen and it is same with the separate conversion that the entire formats including HTML, EXE and Zip can be picked.
3.Quickly Import
You can quickly import text to flipbook by FlipPDF free FlipBook Maker. When you import your text file you can also set the quantities, the quality and size of the pages, and also import the links. At the meantime, you can import a text or image as the watermarks. If you check the enable search option, you can search the content with customized keywords in your flipping book.
4. Individualize the Appearance of flipbook
FlipPDF Free FlipBook Maker can help you to individualize appearance of flipbook as you want. You can add the book title, the margin, page shadow, and background config. Every little option would help you to make a totally different flipping book from others.
5. Various Templates and Themes
In FlipPDF Free FlipBook Maker, three main templates are in default settings; you can choose any one of themes from the template for your flipbook. With this free flipbook maker, you can easily make your flipbook to be unique with ease.
6.Add Sound
FlipPDF Free FlipBook Maker allows you to add music with a few clicks. This makes your flipping book becomes more animated. Imagine that you provide your readers with a poem, and with a warm music as the background music, readers would feel much more pleasure from your flipbook.
7. Different Output Formats
After your conversion from text to flipping book in the FlipPDF Free FlipBook Maker, you need to preserve the page turning books to end your works. And this is the important last step to make flipping book, you can select a format from HTML-for online view; EXE-for installing in PC; and ZIP-for email transmission.
If you need convert PDF to flash FlipBook without page limited, please see our full version: Flip PDF
Introducion to Flip PDF
---------------------------------------------------------------------------------------------------------------------------------------------------------------------------
The Professional Choice for Page Flip and Mobile App Publishing
Flip PDF is a digital publishing software that allows you to create realistic page-flipping e-Publications including E-Books, E-Magazines, E-Brochures, E-Catalogs, E-Reports, E-Newsletters. Flip PDF can convert PDF, images and SWF to digital editions directly. All links and table of contents will be imported into your publication automatically. Add/edit/delete links, audios and table of contents before publishing.
Flip PDF converts PDF to 3D flipping books, and preserve your files as high-quality vector SWF files.
You can take fully control over the conversion process and output setting, whether change the flipping style, or insert user information. Moreover, the flipping books are available for both online and offline use.

Flip PDF offers fully customised desktop page turn direct from PDF files and fully customisable mobile apps for publications using our suite of apps for both Apple and Android devices.
At a Glance: Easy! Even a new user, you can use Flip PDF within a couple of minutes without any special learning.
Key Features
Ready to try or buy?