FlipPDF Free DJVU to PDF Converter
Price: $0
100% free software for you to batch converts DjVu files into PDF files!
Easy-to-use converter from Djvu to PDF;
Batch converts DjVu files into PDF documents;
Set passwords for your converted PDf files;
Import watermark to your PDF files;
Individualize the PDF files with page number, viewer, etc.
Command line usage.
Convert PDF to FlipBook, please see our full version: Flip PDF
FlipPDF Free DjVu to PDF Converter is a popular PDF converter to convert dizzy DjVu files into convenient PDF document. Compared with DjVu files, PDF is much more common, so people need to change their DjVu files into PDF files. Now FlipPDF Free DjVu to PDF Converter will help you a lot, this kind of totally freeware will be pleasure to set password, page number, watermark, page layout and timeout for your PDF files.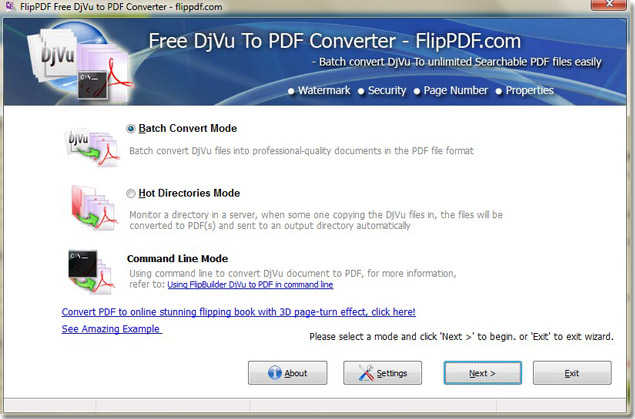 Advantages by using FlipPDF Free DjVu to PDF Converter:
1. Easy to Handle
The FlipPDF Free DjVu to PDF Converter is an easy to handle PDF converter that with plain and simple interface. And in FlipPDF Free DjVu to PDF Converter, three modes exist. Batch convert mode converts files from different location together; Hot Directories mode converts all the files of the object folder automatically. The command line mode can be used after the DjVu Browser Plugin has been installed in your computer.
2. Write Metadata to PDF
The properties of the PDF can be defined by users that mean you can write the metadata to PDF files in the FlipPDF Free DjVu to PDF Converter. The customize options including title, subject, author and keywords.
3.Advanced Security Settings for PDF
FlipPDF Free DjVu to PDF Converter helps you to protect your PDF files from DjVu. Once you add the security for the PDF, readers should give the right password to open the document. Besides, you can set the permission password that can limit people to print or change the document. Also the security is used to forbid others to copy your content casually.
4. Appearance Settings
FlipPDF Free DjVu to PDF Converter provides various ways to show your watermark, this would be a kind of decoration of your PDF and also protect your PDF efficiently. Viewer settings for you to set the document and window options so that the interface of your PDF would change. Three kinds of page numbers for you to choose makes the PDF looks tidy and convenient. Moreover, page layout can be individualized with the layout and margin.
5. Batch Conversion
FlipPDF Free DjVu to PDF Converter can help you to convert all DjVu files into PDF in one time. The batch conversion can saves you a lot time and also can easily realize your demand. The DjVu can be picked one by one or as a whole folder. The batch conversion is the common and special function of the FlipPDF Free DjVu to PDF Converter. The aim of the Batch conversion mode is provide you more convenience.
6.Unlimited Conversion
FlipPDF Free DjVu to PDF Converter is a freeware now for every customer, and it would be always free for you, you can use the software unlimitedly to convert no matter how many DjVu files. 100% unlimited is close to you, only need you to try!
If you need convert PDF to flash FlipBook without page limited, please see our full version: Flip PDF
Introducion to Flip PDF
---------------------------------------------------------------------------------------------------------------------------------------------------------------------------
The Professional Choice for Page Flip and Mobile App Publishing
Flip PDF is a digital publishing software that allows you to create realistic page-flipping e-Publications including E-Books, E-Magazines, E-Brochures, E-Catalogs, E-Reports, E-Newsletters. Flip PDF can convert PDF, images and SWF to digital editions directly. All links and table of contents will be imported into your publication automatically. Add/edit/delete links, audios and table of contents before publishing.
Flip PDF converts PDF to 3D flipping books, and preserve your files as high-quality vector SWF files.
You can take fully control over the conversion process and output setting, whether change the flipping style, or insert user information. Moreover, the flipping books are available for both online and offline use.

Flip PDF offers fully customised desktop page turn direct from PDF files and fully customisable mobile apps for publications using our suite of apps for both Apple and Android devices.
At a Glance: Easy! Even a new user, you can use Flip PDF within a couple of minutes without any special learning.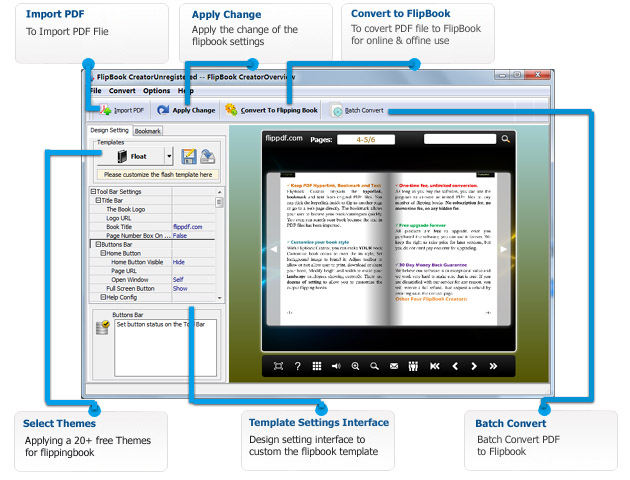 Key Features
Ready to try or buy?