Free FlipPDF DOC to Image Converter
Price: $0
Batch converts DOC to Image freely and quickly!
Quickly converts Word DOC documents into image formats;
Output image formats: bmp, jpeg, gif, png, tiff;
Select the color mode for the images you will convert;
Batch converts DOCs from different files;
Add DOC files directly;
Command line usage.
Convert PDF to flash FlipBook, please see our full version: Flip PDF
Free FlipPDF DOC to Image Converter is a totally free application with a wonderful self-explanatory title that lets you to change your DOC documents into images in various types, including JPEG, BMP, PNG and EPS. And in FlipPDF DOC to Image Converter, it is simple to use function calls to do the conversion. Moreover, FlipPDF DOC to Image Converter is a very powerful tool to convert bulk DOC files to Images without any helps from Adobe Acrobat software.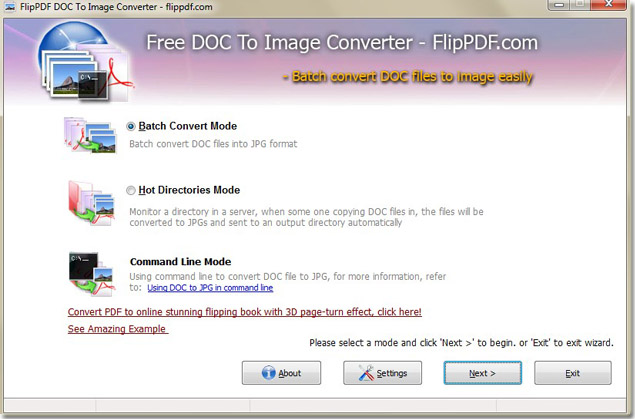 Advantages by using free FlipPDF DOC to Image Converter:
1. Brief Interface
The interface of the Free FlipPDF DOC to Image Converter is plain and simple that people can handle the program easily and quickly, even without any extra thinking. Documents can be imported into the list by using the file browser only.
2. Different Mode to Realize the Conversion
In Free FlipPDF DOC to Image Converter, three modes exist. Batch convert mode for you to convert files from different location together. Hot Directories mode for you to set the import, output and log folders separately and the software will convert all the object files automatically after start. The command line mode can be used as the GhostScript has installed in your computer.
3. Select the common properties
The Free FlipPDF DOC to Image Converter helps you to define the page ranges of the DOC files, you can convert all pages or select the page with number in the box; The convert name can be set as you want; also you can create directories for each image.
4. Various Output Formats
Free FlipPDF DOC to Image Converter provides you four kinds of image format; Users can easily change their DOC into BMP, JPEG, PNG or TIFF format images. And there are color selections for you to choose in each type image
5: Batch Conversion
Free FlipPDF DOC to Image Converter not stupid software that is because it is flexible for you to batch convert DOC files in your hardware. You can pick every file from different folders, and also you can add different folders directly change all the DOC documents in them to be images with your prefect type. The Free FlipPDF DOC to Image Converter for every client free to use and install in order to help you get more fun!
If you need convert PDF to flash FlipBook without page limited, please see our full version: Flip PDF
Introducion to Flip PDF
---------------------------------------------------------------------------------------------------------------------------------------------------------------------------
The Professional Choice for Page Flip and Mobile App Publishing
Flip PDF is a digital publishing software that allows you to create realistic page-flipping e-Publications including E-Books, E-Magazines, E-Brochures, E-Catalogs, E-Reports, E-Newsletters. Flip PDF can convert PDF, images and SWF to digital editions directly. All links and table of contents will be imported into your publication automatically. Add/edit/delete links, audios and table of contents before publishing.
Flip PDF converts PDF to 3D flipping books, and preserve your files as high-quality vector SWF files.
You can take fully control over the conversion process and output setting, whether change the flipping style, or insert user information. Moreover, the flipping books are available for both online and offline use.

Flip PDF offers fully customised desktop page turn direct from PDF files and fully customisable mobile apps for publications using our suite of apps for both Apple and Android devices.
At a Glance: Easy! Even a new user, you can use Flip PDF within a couple of minutes without any special learning.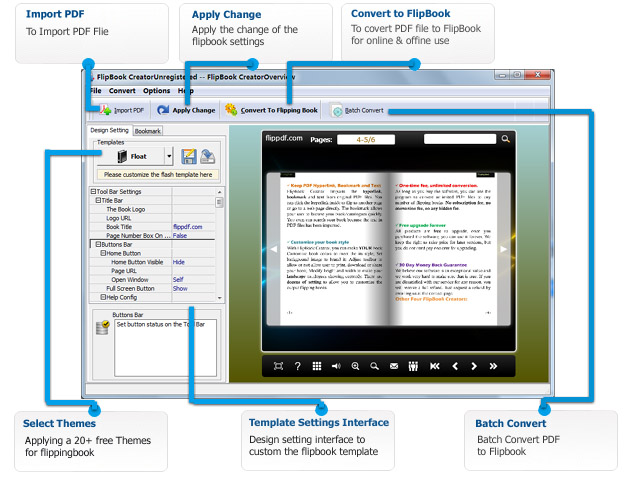 Key Features
Ready to try or buy?