FlipPDF PPT to Flash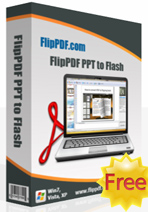 Price: $0
A fantastic presentation tool to convert PPT to Flash slides!
Free convert PDF to flash slides
Customize slide transition time and retain time
Record audio
Vivid slides transmition effect
If you want to batch convert PDF to page flipping book, you can see: Flip PDF
FlipPDF PPT to Flash is a very easy tool to make fantastic presentation turn slides automatically. With FlipPDF PPT to Flash, you can easily import PPT and record audio directly as you like. Clear layout with description and attachment would make presentation more beautiful and enable audience or readers enjoy a different viewing style. Especially, you can make slides with different transition effects to make presentation more vivid and interesting. For example, erased from the lower left corner, wipe from top to bottom, vertical stretch to the middle and so on. In addition, you can also edit PPT easily by FlipPDF PPT to Flash. What's more, you can preview flash slides before output it and embed flash PPT into webpage with adding the embedding code easily. In total, it's a good presentation tool and completely free for everyone to make amazing presentation.
Screen Shots: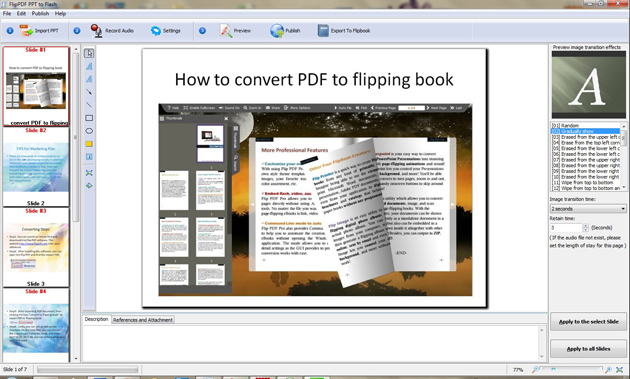 Main Features:
1. Easily import PPT and publish PPT as flash slides
2. Very friendly interface to help you make flash slides from PPT
3. Three output types of flash PPT: Html, zip, exe
4. Support record audio
5. Enable preview flash slides
6. Add transition effects to slides
7. Customize slide transition time and retain time
8. Flexible operation of flash slides: apply to the select slide or apply to all slides
9. Add description, references and attachment easily
10. Add Text, line, blur, arrow, rectangle, oval, highlight and sequence easily
11. Save flash PPT files as ".xml" for later customization
12. Provide embed code after publishing flash PPT
13. Add presenter information to slides with ease
14. Design appearance of output flash slides
15. Switch view mode of flash slides
If you would like to export PPT to flip book, see: Flip PPT
Introducion to Flip PDF
---------------------------------------------------------------------------------------------------------------------------------------------------------------------------
The Professional Choice for Page Flip and Mobile App Publishing
Flip PDF is a digital publishing software that allows you to create realistic page-flipping e-Publications including E-Books, E-Magazines, E-Brochures, E-Catalogs, E-Reports, E-Newsletters. Flip PDF can convert PDF, images and SWF to digital editions directly. All links and table of contents will be imported into your publication automatically. Add/edit/delete links, audios and table of contents before publishing.
Flip PDF converts PDF to flipping books, and preserve your files as high-quality vector SWF files.
You can take fully control over the conversion process and output setting, whether change the flipping style, or insert user information. Moreover, the flipping books are available for both online and offline use.

Flip PDF offers fully customised desktop page turn direct from PDF files and fully customisable mobile apps for publications using our suite of apps for both Apple and Android devices.
At a Glance: Easy! Even a new user, you can use Flip PDF within a couple of minutes without any special learning.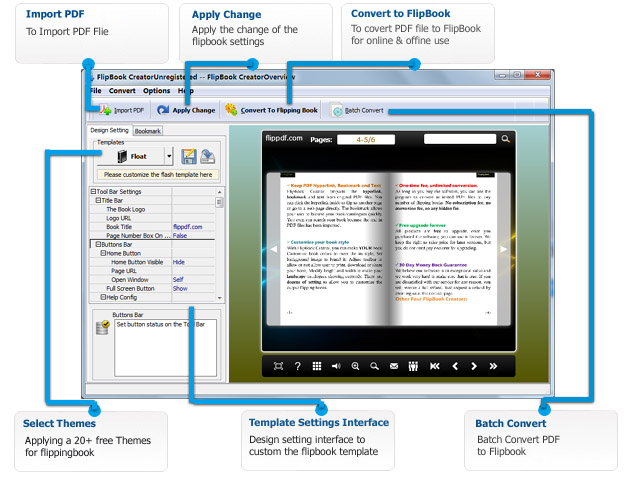 Key Features
Ready to try or buy?