FlipPDF PDF to Flashbook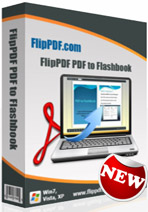 Price: $0
Make Flashbook from PDF without cost!
Free convert PDF to flashbook
Support batch convert PDF to flashbook
Convert PDF to e-pub easily
Burn to CD
View flashbook on computer and mobile devices (iPad, iPhone, Android mobile)
If you want to batch convert PDF to page flipping book, you can see: Flip PDF
FlipPDF PDF to flashbook is a new released freeware for everyone to make flash book and even e-pub book from PDF easily. With FlipPDF PDF to flashbook, you can read PDF file in flash book style without any PDF reader on computer and mobile devices, as you can convert PDF to flashbook which can be read on mobile devices with a browser. Various output types of flash book for choices: Html, zip, exe, mobile version, e-pub and even burn flashbook to CD. What's more, you can customize the flashbook with adding background music, flash effect, book title and table content etc. The amazing thing is that you can convert PDF to flashbook without any cost.
Screen Shots: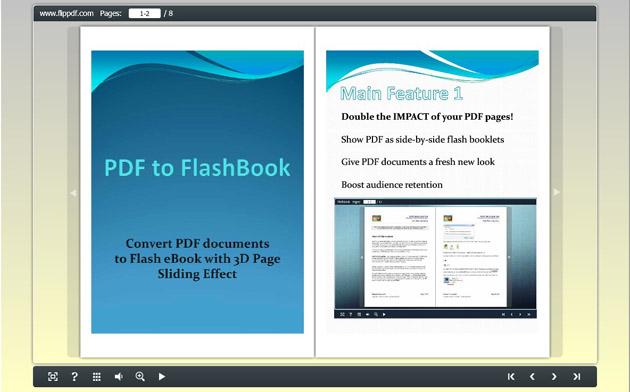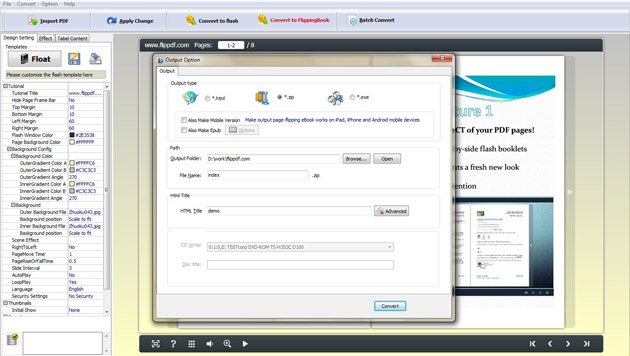 Main Features:
1. Support batch convert PDF to flashbook: you can convert batch PDF files to flashbooks or even convert multi PDF file to one flashbook with FlipPDF PDF to flashbook.
2. Five output types of flashbook: Html, zip, exe, mobile version and e-pub.
3. Add flash effect to flash book with ease by FlipPDF PDF to flashbook: various flash effects to choose.
4. Enable add table content, in other words, you can add bookmark to flashbook for better viewing.
5. Burn flashbook to CD, with FlipPDF PDF to flashbook, you can easily burn PDF flashbook to CD.
6. Save template settings for future use: you can save template settings of flashbook easily by FlipPDF to flashbok with clicking save template setting icon and use it in the future with clicking import template setting icon.
7. Customize background of flashbook, you can set the background color, insert background file(image or swf).
8. Right to left effect: you can make flashbook to change pages from right to left.
9. Zoom in or zoom out flash pages of flashbook
10. Auto play flashbook with one click
11. Security setting: set password to protect flashbook as you want
12. Show or hide thumbnails with ease
If you would like to make printable page flipping book from PDF, see: Flip PDF
Introducion to Flip PDF
---------------------------------------------------------------------------------------------------------------------------------------------------------------------------
The Professional Choice for Page Flip and Mobile App Publishing
Flip PDF is a digital publishing software that allows you to create realistic page-flipping e-Publications including E-Books, E-Magazines, E-Brochures, E-Catalogs, E-Reports, E-Newsletters. Flip PDF can convert PDF, images and SWF to digital editions directly. All links and table of contents will be imported into your publication automatically. Add/edit/delete links, audios and table of contents before publishing.
Flip PDF converts PDF to flipping books, and preserve your files as high-quality vector SWF files.
You can take fully control over the conversion process and output setting, whether change the flipping style, or insert user information. Moreover, the flipping books are available for both online and offline use.

Flip PDF offers fully customised desktop page turn direct from PDF files and fully customisable mobile apps for publications using our suite of apps for both Apple and Android devices.
At a Glance: Easy! Even a new user, you can use Flip PDF within a couple of minutes without any special learning.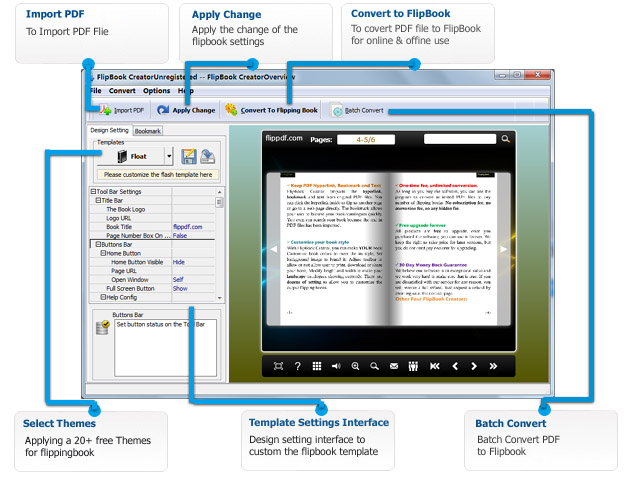 Key Features
Ready to try or buy?