Free Flippdf Editor
Price: $0
Free Flippdf Editor Is An Easy Tool To Edit PDF.
Easily and fast to edit PDF
Insert images, text, links, shapes with ease
Export PDF to images
Security setting: customize PDF properties and set relative passwords
If you want to batch convert PDF to page flip book, you can see: Flip PDF
Flippdf Editor is a completely freeware for you to make last minute edit of a PDF file. It's a very easy-to-use tool which helps you import and edit existed PDF file. The Flippdf Editor provides you several functions with friendly interface, such as insert images, draw various shapes, draw arrow, draw lines, add text and customize font easily. The most fantastic thing is that you can also undo, redo, cut, copy, paste, delete some objects of PDF file with ease when you edit PDF file. Don't you think it's a good and easy tool to help you edit PDF file? In addition, the thumbnail and zoom in or zoom out functions of Flippdf Editor would be very convenient for you to edit PDF file. What's more, you can even export PDF file to images, for example you can choose export all pages of PDF file to images, or choose page range of PDF file to images. JPEG, TIFF, PNG, BMP format images will be exported by Flippdf Editor.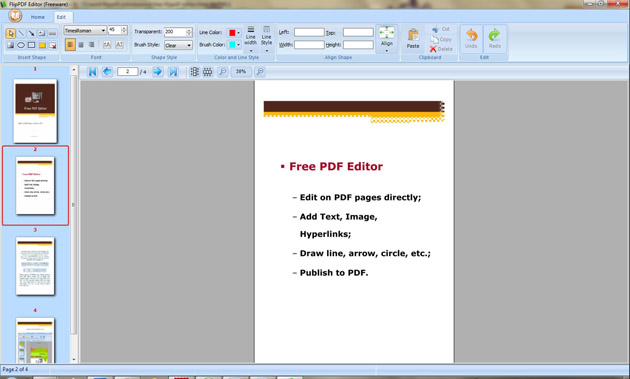 Main Features:
1. Edit PDF and publish PDF in few minutes
Flippdf Editor will support you to import existed PDF for editing and publish the modified and refreshed PDF file. The Flippdf Editor is really a time-saving program which would save you a lot precious time, as you don't need to convert PDF to word or other files. You can edit PDF file directly and save edited and newest PDF file for using by our Flippdf Editor.
2. Powerful function of adding text to existed PDF
With Flippdf Editor, you can easily add text with customizing font, size of font and align text right/left/center. That's really convenient for you to edit PDF file with adding text.
3.Easily insert images and shapes
The Flippdf Editor allows you to insert images, shapes. Various formats of images are supported, such as jpg, bmp, tif, gif etc. About the shapes, you can easily draw circle and rectangle with different color line, different wide line and different style line. For example, you can draw slide, dash, dot, dash dot, dash dot dot style line. What's more, you can even make accurate align of shape with designing its left, top, width and height align.
4. Easy-to-use interface of Flippdf Editor
Simple layout with clear buttons for you to edit PDF file. For example, cut, copy, paste, undo, redo, delete button and so on. With friendly interface, you can edit PDF file in short time.
5. Export PDF page to image
The amazing function of Flippdf Editor is that you can export PDF file to four formats images: JPEG, BMP, PNG, TIFF. What's more you can even set the DPI Resolution and quality of exported images by Free Flippdf Editor.
6. Security setting
You can even edit security setting of PDF file by Flippdf Editor. For example, you can customize the title, author, subject, keyword of PDF file. Moreover, you can set a password to make your PDF document encrypted.
In addition, "Build to Flipbook" button on Flippdf Editor enables you view your PDF in page flip book style. If you would like to make page flip book from PDF, you can see: Flip PDF
Introducion to Flip PDF
---------------------------------------------------------------------------------------------------------------------------------------------------------------------------
The Professional Choice for Page Flip and Mobile App Publishing
Flip PDF is a digital publishing software that allows you to create realistic page-flipping e-Publications including E-Books, E-Magazines, E-Brochures, E-Catalogs, E-Reports, E-Newsletters. Flip PDF can convert PDF, images and SWF to digital editions directly. All links and table of contents will be imported into your publication automatically. Add/edit/delete links, audios and table of contents before publishing.
Flip PDF converts PDF to flipping books, and preserve your files as high-quality vector SWF files.
You can take fully control over the conversion process and output setting, whether change the flipping style, or insert user information. Moreover, the flipping books are available for both online and offline use.

Flip PDF offers fully customised desktop page turn direct from PDF files and fully customisable mobile apps for publications using our suite of apps for both Apple and Android devices.
At a Glance: Easy! Even a new user, you can use Flip PDF within a couple of minutes without any special learning.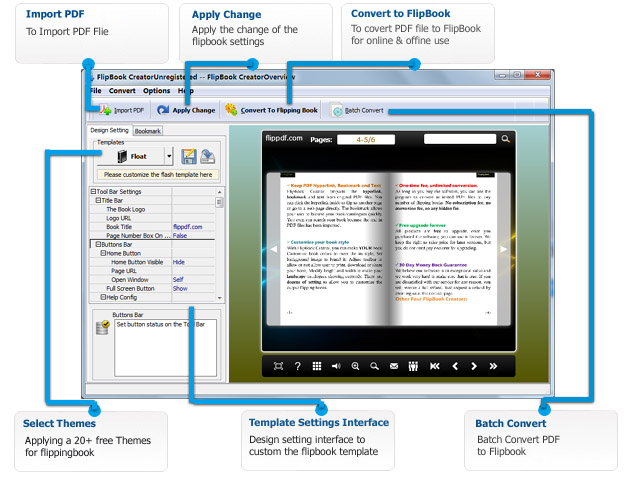 Key Features
Ready to try or buy?