Free Flip Paper Maker
Price: $0
Easy tool to convert TXT to flip paper
Easy and quick to convert Txt files to flip papers
Download once, use forever
Google Analytics Intergration
Completely free
Add  background music:
If you want to convert PDF to flash page flip book, you can see: Flip PDF
The flip paper maker can convert your thesis, presentation, catalog to flip paper with page turning effect. Easy way to make your original txt files to flip paper. Compared with traditional files, flip paper is easier to preserve and organize. And the most important thing is that you can also easier to publish it online and make it readable on mac, ipad, iphone and even Android mobile devices. Let your readers enjoy new experience of reading. No limited pages, no professional skills required, no much time to cost, no money to pay, only need your two mouse clicks to convert txt files to flip paper. Download this free software to make flip paper in few seconds.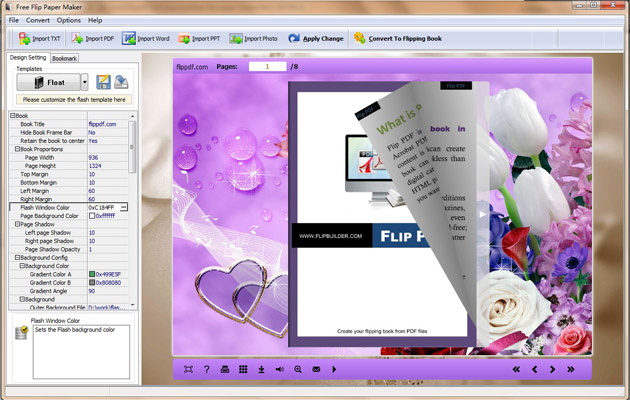 Features:
1.Customize the flipping time if you would like to make it to turn pages faster or slower
2. Set home page URL: make your flipbook links with home page, company website
3. Left to right and right to left flipping effect
4. Book frame bar make digital book more realistic
5. Easy to overview from thumbnail
6.Tool bars on top or botto
7. Turn on or off page-turning sound
8. Search: overall search in flip book, highlight color and search characters are customized
9. Easy and fast to import with txt files
10.Two or more languages can be used at the same time: you can edit current language file or add a new language to display your page-flipping ebook. Readers can click "Change Language" button to view the ebook in their prefer language.
11.Print: You can print all pages, current pages, or several pages( you can set print range)
12. DIY top/ bottom/ left/ right Margin of flip book
13. Burn to CD
14.Google Analytics Integration: Add your own google analytics ID.
15.Four output types: HTML, ZIP, EXE, APP
Would like to convert PDF files to flip images catalog, see: Flip PDF
Introducion to Flip PDF
---------------------------------------------------------------------------------------------------------------------------------------------------------------------------
The Professional Choice for Page Flip and Mobile App Publishing
Flip PDF is a digital publishing software that allows you to create realistic page-flipping e-Publications including E-Books, E-Magazines, E-Brochures, E-Catalogs, E-Reports, E-Newsletters. Flip PDF can convert PDF, images and SWF to digital editions directly. All links and table of contents will be imported into your publication automatically. Add/edit/delete links, audios and table of contents before publishing.
Flip PDF converts PDF to flipping books, and preserve your files as high-quality vector SWF files.
You can take fully control over the conversion process and output setting, whether change the flipping style, or insert user information. Moreover, the flipping books are available for both online and offline use.

Flip PDF offers fully customised desktop page turn direct from PDF files and fully customisable mobile apps for publications using our suite of apps for both Apple and Android devices.
At a Glance: Easy! Even a new user, you can use Flip PDF within a couple of minutes without any special learning.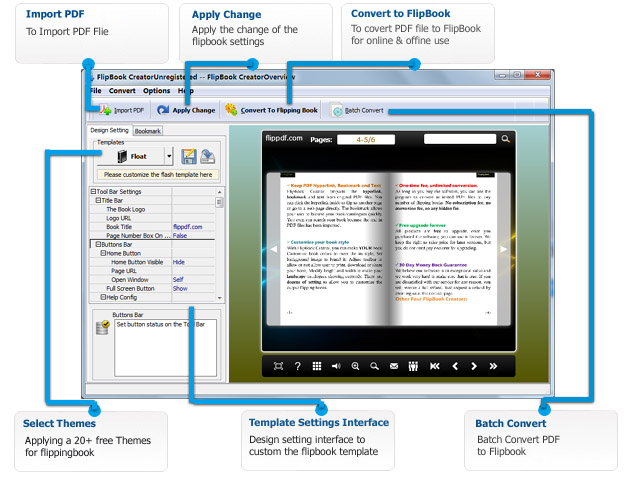 Key Features
Ready to try or buy?