Free Digital Book Creator
Price: $0
The Best way to create Digital Book
100% freeware to create from text documents to Digital books , E-magazines, E-newspaper, Digital brochures and online catalogs  for online and offline use .
Convert your Text files to vivid Digital Flash Book in seconds.
Publish on Web, Mac, Mobile version( ipad, iphone, Android Mobile Devices), CD and Zip.
Google Analytics Intergration---mastering your online book easily.
DIY templates
Convert different format files to flash FlipBook and share to social network, please see our full version: Flip PDF
Digital Book Creator is an convenient and simple software to create flash digital book easily and fast.(100% free). You can use the software to create your own professional and unique digital book,Christmas flipbook, Christmas digital gift,birthday e-gift, kid flip book, wedding flip book, digital photo album and so on. You do not need any programming professional skills, only using your fingers to import your text book then publish it and even share it with others .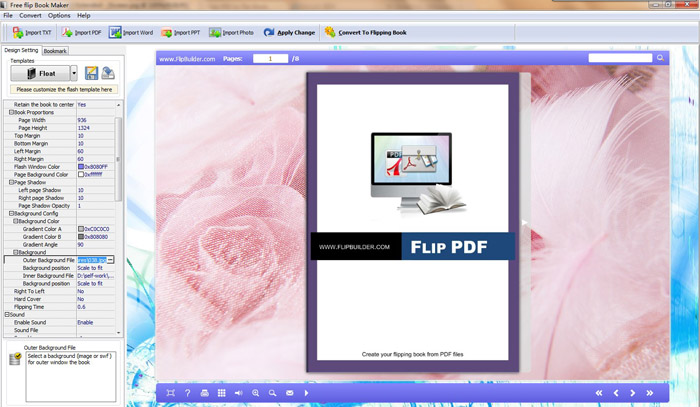 Feature:
1. Customized Output appearance : You can design your own interface with backgrounds, control button, navigation bar, and book page for better displaying.
2. Thumbnail: Overviewing is available and fast.
3. Named Book Title: Customized Book Title with ease.
4.Add Home Page URL: Adding your home page URL on your digital edition
5.Search : Searching for specific passage in the full E-book.
6.Bookmark: Setting the bookmark for reader's convenience.
7.Sharing : Share with others easily with ZIP or links.
8. Burn to CD
9. Publish on Web, Mac, Mobile version( ipad, iphone, Android Mobile Devices), and Zip.
10. Publish for online & offline use
11. Download and print enble: easy for readers to read.
12. Auto-Play support : automatically flipping pages
13. Sound: You and your readers can decide sound on or off when page flips
14. DIY templates: You can design the templates by yourself.
15. Google Analytics Intergration: In the HTML output format, you can add statistics by using google analytics.It allows you to integrate Google Analytics account ID in the publishing flipbook that helps you master the traffic of your online book easily..
If you need convert multipile files to Flip Book and add movie, video, music ,imagin and swf, please see our full version: Flip PDF
Introducion to Flip PDF
---------------------------------------------------------------------------------------------------------------------------------------------------------------------------
The Professional Choice for Page Flip and Mobile App Publishing
Flip PDF is a digital publishing software that allows you to create realistic page-flipping e-Publications including E-Books, E-Magazines, E-Brochures, E-Catalogs, E-Reports, E-Newsletters. Flip PDF can convert PDF, images and SWF to digital editions directly. All links and table of contents will be imported into your publication automatically. Add/edit/delete links, audios and table of contents before publishing.
Flip PDF converts PDF to 3D flipping books, and preserve your files as high-quality vector SWF files.
You can take fully control over the conversion process and output setting, whether change the flipping style, or insert user information. Moreover, the flipping books are available for both online and offline use.

Flip PDF offers fully customised desktop page turn direct from PDF files and fully customisable mobile apps for publications using our suite of apps for both Apple and Android devices.
At a Glance: Easy! Even a new user, you can use Flip PDF within a couple of minutes without any special learning.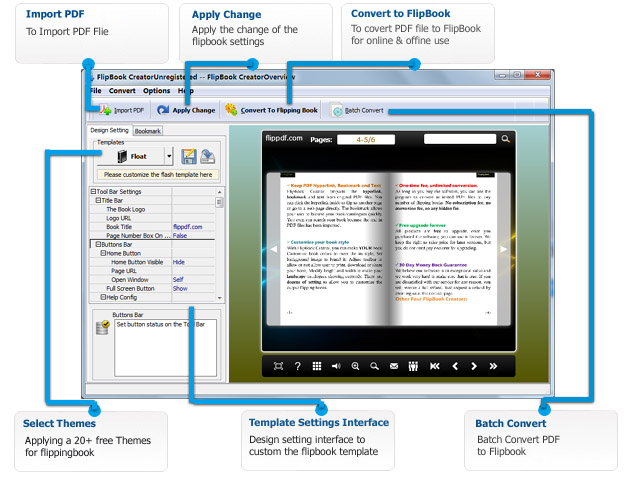 Key Features
Ready to try or buy?