Flash Page Flip Maker -
freeware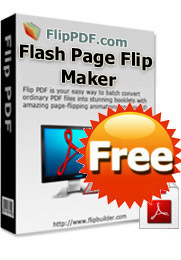 Price: $0
Create your own stunning flipping book publication in minutes!
100% freeware to create from text book to digital magazines, page flip books, brochures and interactive catalogs for both online and offline use.
Create digital page turn magazine from text book in seconds
Support for iPhone/iPad and Android for mobile viewing, and many more.
Control your flash page flip content. TOC (Table of contents).
Flash Page flip book can be used offline (Desktop/CD's/DVD's/USB-flashdrives etc.)
Customize to your company brand identity e.g. colors, logos, sound, and much more...
Convert PDF file into AMAZING digital-brochure UNLIMITED projects, unlimited pages, see Flip PDF
Flash Page Flip Maker is an 100% free flipping book software that allows you to convert text book documents into Flash page flip digital publications. It's the ideal solution for those who wish to embed a book, magazine, catalog, newspaper, portfolio or any other kind of document into a website or blog.
Once created, you can embed your flipping book collection, download them or share them on social networking websites such as Facebook.
With Flash Page Flip Maker, you can now quickly and easily offer your readers an enhanced online version of your publication while they enjoy the flexibility, interactivity and rich media features associated with each digital edition. Additionally, publishers can create an instant web presence and introduce new revenue streams, while significantly lowering costs.

Feature:
1. Customized Viewer Interface : Customized viewer, allows you to change background and toolbar colors, add or remove graphics and features.
2. Import Logo : Import your company's logo directly into your digital edition.
3. Background Image : Allows you to insert any image directly on the background of your edition.
4. Search : Allows your readers to search for specific content within the edition
5: Thumbnail Browser Interface : Instant overview of the whole edition using small images.
6. Bookmark : Allows your readers to add bookmarks to your edition for easy reference and return to a specific page.
7. Printing : Readers can print single and multiple pages of your digital edition.
8. Send as e-mail : You and your readers can e-mail the digital edition to friends, customers and business associates.
9. CD Version : Mail your digital edition on a CD/ DVD for your customers viewing and reference. Save on paper and mailing costs.
10. Publishing with one Button-Click for online & offline use
11. Sharing on Email, Facebook, Twitter..
12. Download, Print, Fullscreen and Pageoverview controls.
13. Auto-Play support - automatically flipping pages
14. Multiple Methods of Distribution - Online publications may be published from your personal Web server, embedded on social media, placed on a CD/DVD/USB device or embedded into e-mail for fast, effortless, and eco-friendly distribution.
15. Easy Navigation - Online publications look and read like traditional magazines with turn page. Search functions allow readers to find key words, phrases, or sentences; a convenient index and hyperlinks help readers locate information quickly; a zoom function keeps the pages crisp, smooth, and easy to read.
16. Integrated online WEB marketing and Search Engine Optimization (SEO) : Insert your own tracking code from your standard provider (e.g. Google Analytics) for visits of your online publication ; Animated teaser / banner for your online publication to place at your WEB site.
If you need convert PDF to flash FlipBook, please see our full version: Flip PDF

Ready to try or buy?