Go to Mac Version
eFlip Publisher
Price: $199.00
Enhanced multifunction flip book publisher.
eFlip Publisher is a powerful standard version software for flippingbook publish solutions. For either business or personal, the software was committed to assist users to generate real-like page flip effect e-books. eFlip Publisher supports PDF/MS Office/OpenOffice conversion and various output formats.
Create great flash books in a convenient way;
PDF, MS Office and Open Office conversion supported;
Android conversion integrated: generate .apk for Android install;
Alternative output solution: HTML 5/Flash, zip, exe, app and more;
Free 5G cloud host upload space for backup and releasing;
HTML 5 compatible for iPhone, iPad, BlackBerry and Android;
More than 20 build-in templates and abundance online templates to make unique works;
Full control to your books: logo, brand, sound, designing and any information you would like to show.
eFlip Publisher was devoted to be an excellent flip book maker and publish solution provider. It allow users to convert PDF/MS Office/open office files to flash page flip books. Moreover, you can choose ePub and mobi or more publishing methods. In order to make your publications perform the best expression on mobile devices, eFlip Publisher supports HTML 5 technique. As the name implies, it is not only a convertor, you can also own for a 5G online host for publish books.
I. Powerful publishing backup:
For anyone have needs of releasing books, eFlip Publisher provides a 5G online host for free. You just have to sign up an account, and then you can easily upload your books and manage them in the publisher interface. When upload succeeded, you can get an URL of the book and share it expediently. You can upload 250 books academically, but if there is more space needed, you can also purchase for it.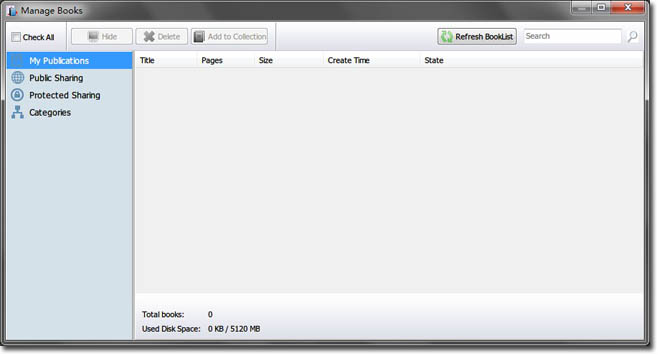 II. Mobile platform supported:
More and more people using portable devices to do their jobs and entertaining. For performing perfect expression, eFlip Publisher had supported HTML 5 for mainstream mobile devices. When uploaded online, your books can perfectly show on platforms such as iPhone, iPad, BlackBerry or Android.
III. Android adaption:
You don't want to upload your book to host but still need to view on Android devices? It is possible for our products. We had Android Book App Maker integrated so that you can generate an .apk file directly with the imported file. Users can even define app icon and many information. It will be easy to any users even you don't know any about Android developing.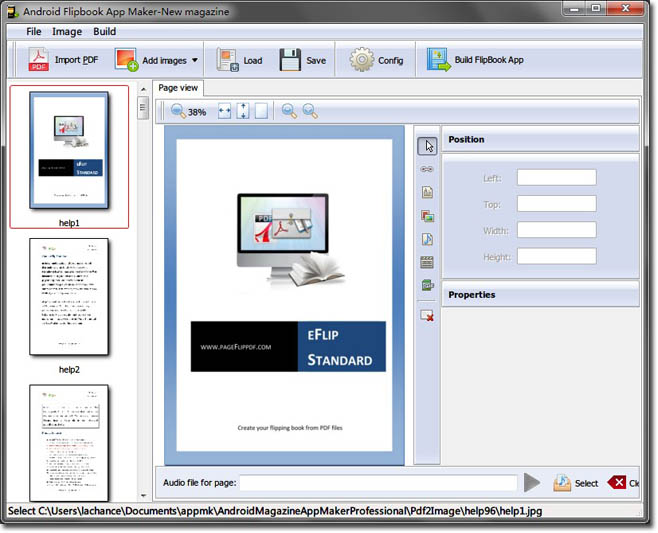 Ready to try or buy?