Go to Mac Version
eFlip Maker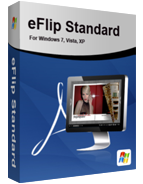 Price: $199.00
Easy to publish page turning books to mainstream platforms
eFlip Maker was designed to assistant users to generate and publish flash flippingbook efficiently. Whit the help of the powerful function, users can create vivid page turn effect e-books on their own. You don't even need to ask anyone for help, it is all-in-one that nearly can meet any needs. eFlip Maker can turn PDF, MS Office, OpenOffice and RTF file to flash books, and can also convert to ePub, mobi and more.
User-friendly interface make easy and quick flipbook converting possible;
Unlimited conversion for PDF, MS Office, OpenOffice and RTF;
Intuitionist and secured free cloud host for publishing;
Multiple release format available: convert to flash, ePub, Mobi and more;
Android App Maker integrated: turn your books to Android applications;
Alternative output forms: HTML, ZIP, EXE, APP, CD etc;
Available on mainstream mobile platforms with the support of HTML 5;
Full dominant right to your book information;
eFlip Maker is a powerful all in one e-book publishing software. As the main function, it can turn PDF to flipbook. Mainly flash book conversion, you can also choose ePub, mobi or Android app publishing. In addition, eFlip Maker also allow users convert MS Office and OpenOffice files. Same as PDF, powerful functions provides a great environment to publish your works. What's more, with support of HTML 5 technique, your publications are affordable on all mainstream mobile platforms such as iPad, iPhone, BlachBerry and Android devices.
I. Turn PDF to flash book:
As the main function of eFlip Maker, we had concentrated our efforts on conversion features. So the most popular function has become the PDF conversion, you can import your PDF files and edit it in the software. Configure backgrounds, sounds, logo or any information in the book that you want to show. And then output as flash book file----choose from HTML, zip, exe, Mac app formats. Burn to CD is also an option.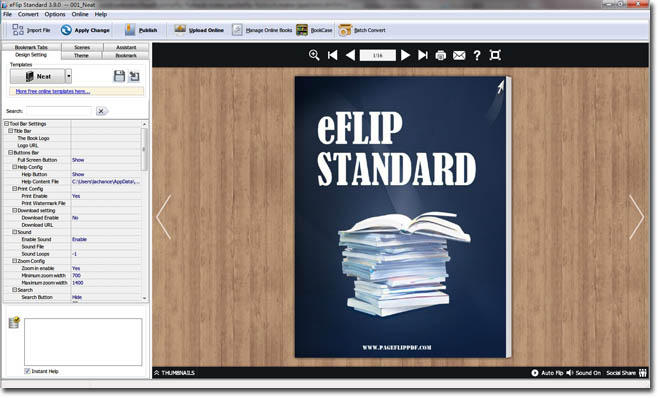 II. Multifunction integrated:
Not only PDF conversion, the software also allows users importing MS Office, OpenOffice and RTF files. In order to meet different needs of file converting, we provide various publishing options in the convertor. You can output your book as basic flash book, also output as epub, mobi, or Android apps. The convertor can even make books into an .app that runs on Mac machines.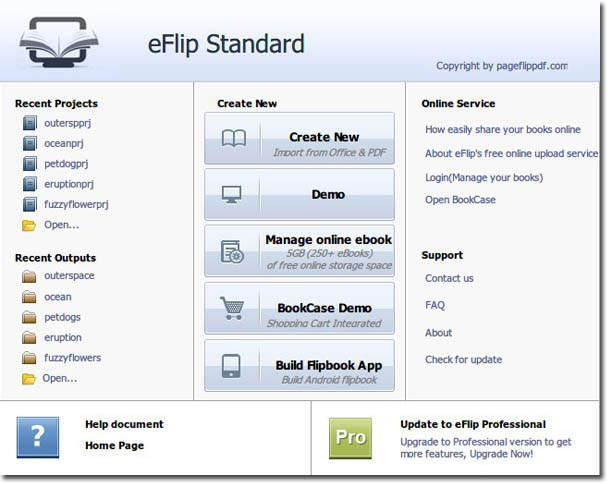 III. Mobile platform affordable:
In recent days, traditional computers are no longer the only option to finish jobs. Plentiful mobile devices are taking the job because of the widely use of smart systems like Android and iOS. Benefit by HTML 5 technique, our products can perform a better expression on mobile platforms. We had done our best to optimize books on almost all of the mainstream mobile platforms. No matter you're using iPad, iPhone or Android and BlackBerry, the book will perform the best experience to your target clients.
IV. Easy online service:
Output book files on local computer is insignificance. If you need something more than just presenting, we recommend you our online host service. You don't need to spend lots of time and money holding a host, we provide 5G cloud host to all registered users for uploading their books. You can manage the book case in the eFlip Maker interface. Host service is basically free, users can purchase for more space.
Ready to try or buy?