Go to Mac Version
eFlip Creator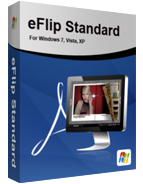 Price: $199.00
Provides efficient file convert solution for business or private.
eFlip Creator was devoted to provide users efficient and convenience PDF/Office file convert solutions. It allows converting PDF, MS Office and OpenOffice files to flash basic flip books. eFlip Creator also afford various output formats to feed different needs for publishing. It is multifunction and all-in-one that you can use to make flash book and upload to publish online----one pack service.
PDF, MS Office, OpenOffice and RTF files unrestricted conversion;
User-friendly and secure 5G free cloud host specialized for online publishing;
Visualized design interface for easy editing;
Various release forms for different readers needs;
Android affordable: create .apk file for Android installing;
Different output programs: HTML, zip, exe and more;
HTML 5 supported: affordable on mainstream mobile devices;
Facilitate theme management to make stylish works;
eFlip Creator is a flip book maker that was designed for quick conversion and humanized editing. Users can import PDF, MS Office OpenOffice and RTF files to convert to flash flipbook, ePub, Mobi and many other output forms. Not only converting, eFlip Creator also provide you a cloud host space for free online publishing.
I. Quick and simple conversion:
The main purpose of this software is file conversion. So this must be powerful and intuitionist. Whole course visualize operation makes easy editing possible. You can simply import and output to convert, you can also define the book to with stylish design using the multiple settings.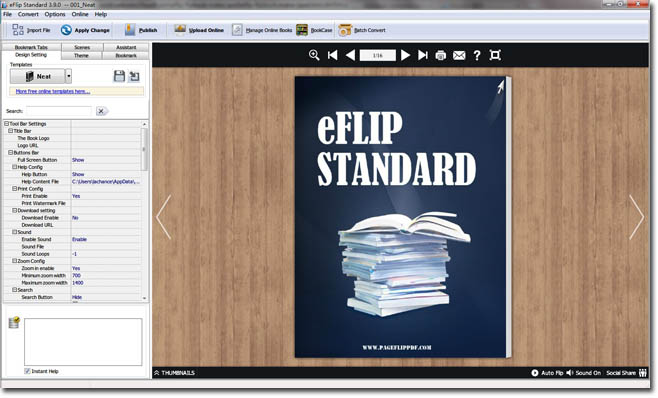 II. Pre-design templates:
For advanced book design, eFlip Creator provide more than 20 build-in templates and themes style. With the help of these, users could make their content-rich books even better. And more, we have an enormous online template library backup. The template feature supports input and output, which means you can save your settings as a new theme or download online templates to apply.
III. Online publish service:
eFlip Creator is not only a flipbook software, it can also afford you publish solutions. You just have to sign up an account, 5G free online host will be yours. Our users don't need to be vexed about hosting books, eFlip Creator affords enhanced backup services. The free cloud host will up to 5G, so that you can release more than 250 books academically. And of course, you can purchase for more host spaces.
IV. HTML 5 supported:
Portable devices are playing more and more important part in our daily lives. Benefit by intelligent smart operating systems, portable devices can handle more complex works than ever. For users who need to work with mobile devices, eFlip Creator generates flip book files with HTML 5 supported. You don't have to worry about your device is Flash compatible or not, our product will do the best for you.
Ready to try or buy?