FlipPDF Free FlipPhoto Maker
Price: $0
Gather photos in a remarkable flipping album!
Realistic page turning effect;
Batch convert folders of photos;
Various photo formats supported;
Convenient photo album with toolbar buttons;
Unique and attractive exterior features;
Choose the render engine for the flash;
Easily share with others via email.
Convert PDF to FlipBook, please see our full version: Flip PDF
FlipPDF Free FlipPhoto Maker provides you batch conversion function that allows you import photos from different folders and the conversion makes ordinary photos changed into a flipping photo album. In this Freeware, the flipping photo catalogs you converted can be output in HTML, ZIP, EXE and mobile version, so that to view on PC, mobile devices, online and offline and transmit via email.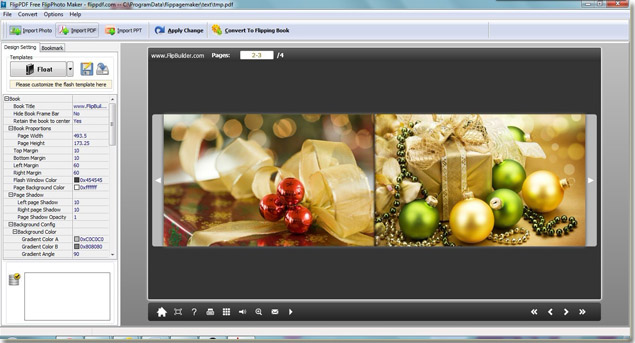 Features of FlipPDF Free FlipPhoto Maker:
1. Realistic Page Turning Effect
The FlipPDF Free FlipPhoto Maker offers you a new eBook reading style. Often you read ebooks in text format, view pictures one by one or use the slide show, well, now the FlipPDF Free FlipPhoto Maker brings you a vivid photo-viewing way. Want to read books everywhere but without the heavy papers? FlipPDF Free FlipPhoto Maker makes the photo album looks like real book and you can feel the realistic page turning effect but without any pressure to you.
2. Easily Import
In FlipPDF Free FlipPhoto Maker, you can control the importation easily with the clear interface. You can choose to add photos one by one or folders by folders and easily to delete the picture you don't need. Although you have picked the photo, you can choose to import all pages, customized pages or quick import 10 pages for previewing. In the importation a text or image can be imported as the watermark to mark your masterpiece as you wish. A good photo album depends on the quality of your photos, so you can change the quality when import.
3.Security to Flipping Album
FlipPDF Free FlipPhoto Maker is a modern application that allows you to set a password so that readers cannot read the flipping photo catalog if without a right password. The password can be set for the whole book or for the rest pages exclude the beginning pages.
4. Customize the Themes
In FlipPDF Free FlipBook Maker, only one default theme for your flipping photo book. But the software provides you different settings to change the theme. You can change the background file and color, toolbar color and font and toolbar button, and then save the settings as the theme, so you can use the individual theme forever.
5.Zoom in
FlipPDF Free FlipBook Maker makes your photos be in a flipping album that can be flexible zoom in separately. And this function would be a button of the toolbar; readers can control the size of the photos of the flipping album all limited in your zoom in settings.
6.Switchable Application Options
FlipPDF Free FlipBook Maker contains three different application options. When you change the application options, the render engine for the conversion would change. Different choice gives you different type of flipping albums. The SWF contains much legible characters and in smaller output size; GPL Ghostscript is more suitable for the flipping photo albums for the higher color transfer quality; The Inner Library makes the conversion from photos to Flipping photo catalog much faster than the other two methods.
7.Run on Different Devices
The FlipPDF Free FlipPhoto Maker supports different output formats, and every different format gives you a new way to read your flipping photo albums. HTML makes the online and offline photo catalog viewing to be possible; ZIP brings you more readers by your recommend via emails; EXE allows you view your books without a folder only one icon on your desk of your PC.
If you need convert PDF to FlipBook without page limited, please see our full version: Flip PDF
Introducion to Flip PDF
---------------------------------------------------------------------------------------------------------------------------------------------------------------------------
The Professional Choice for Page Flip and Mobile App Publishing
Flip PDF is a digital publishing software that allows you to create realistic page-flipping e-Publications including E-Books, E-Magazines, E-Brochures, E-Catalogs, E-Reports, E-Newsletters. Flip PDF can convert PDF, images and SWF to digital editions directly. All links and table of contents will be imported into your publication automatically. Add/edit/delete links, audios and table of contents before publishing.
Flip PDF converts PDF to 3D flipping books, and preserve your files as high-quality vector SWF files.
You can take fully control over the conversion process and output setting, whether change the flipping style, or insert user information. Moreover, the flipping books are available for both online and offline use.

Flip PDF offers fully customised desktop page turn direct from PDF files and fully customisable mobile apps for publications using our suite of apps for both Apple and Android devices.
At a Glance: Easy! Even a new user, you can use Flip PDF within a couple of minutes without any special learning.
Key Features
Ready to try or buy?