Flash Page Flip Maker for HTML5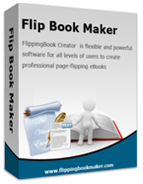 Price: $0
Convert TXT to HTML5 format flash flipping book!
Help you create HTML5 flash flipbook with page turn animation for free.
Flash Page Flip Maker for HTML5 is a user-friendly free

flip book maker

. This page flip freeware can convert Text (.*txt") files to HTML5 based flash flip book. You can then upload this page flip publication to online website. And the output flash book can be easily accessed via Internet-connected computer or even mobile devices.
HTML5 is becoming more and more popular in the web field, and it's taking the place of the other web technologies, making itself the mainstream in this field. So if you are developing or plan to develop a new web application, you should take this into account. You should consider the compatibility with HTML5, or at least make your project more HTML5-friendly.
Why is HTML5 so popular? That's because of its obvious advantages, of course. It includes many advantages of the other versions such as previous HTML versions, Flash and JavaScript, but abolishes the disadvantages. It's so powerful that it can support multimedia even without the application of Flash. That really makes sense that HTML5 will be the terminator of Flash.
Since HTML5 can do so much, no wonder that now many websites are using HTML5, among which are the world's top websites. So if you want to publish some online e-Books or magazine, you should take HTML5 as priority. And you can try our flash page flip maker for html5 which can help you convert TXT files to HTML5 based flash page flip books for free.
And this page flip freeware allows you to customize the flip book with a series of settings: add background image, insert background music, change colors, add table of contents, use hard cover for the book and so on.
It's very easy to operate. You just need to import Text file, define custom settings and then you can click convert button to start conversion. And you will get a HTML format flash page flipping book within minutes.
At a Glance: Easy! Even a new user, you can use Flash Page Flip Maker for HTML5 within a couple of minutes without any special learning.
Ready to try?