Embed a slide photo album to the flipping magazine
I'm working on a flash magazine, while I'm adding graphics on it an idea came across me. Why not make graphics slide like an album? To put a cover of the album on the page, click on it and will open an album to slide view. This will save more spaces for my magazine and makes it looks excellent. So is that can be done in a flippingbook?

First, follow the same steps as adding photos the flippingbook to put the album cover to the page. And then follow these steps:
Step1: click "action options" in "image properties".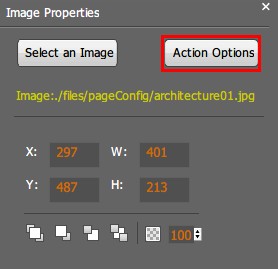 Step2: check "photo slideshow" option to pop up selecting box.

Step3: push "add images" button to choose album photos. Click OK when finish.

Step4: save and quit, back to designing interface, you can confirm the album effect. Click the album cover, the sliding album will pop up.