Can I add a logo to the flipping catalog?
I've got a problem on making flip catalogs. I need to add a logo of my company to the flipping catalog, and I tried many but none of them are suitable. So I'm asking is there a feature to allow me to add logo and won't prejudice to the reading?
In fact you can add a thin watermark on it. But if you don't think it's suitable, we have another choice for you.

First you have to switch template form to "Float".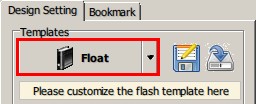 And then you can find "the book logo" option on the design setting panel. Click "…" to choose the logo file from your computer.

What's more, if you input your homepage URL to the "logo URL" blank, a hyperlink will be added to the logo, and it will guide readers to your homepage.