Add bookmarks to the flash flip book
I have converted a PDF novel book to flash format, it's quite a long story that there are hundreds of pages. That would be a nightmare to find a certain chapter, unless you can remember all the page numbers of the chapters. So I think that would be great if I can set bookmarks by chapters or sections.
Adding bookmarks is an easy job with Flip PDF.

There is a "Bookmark" tab at the right side of "Design setting" tab, choose it and you can see the bookmark panel.
You can add several bookmarks to your flash book by using "Add" and "Add child" button. After added bookmarks, you can name a title and the page number of the bookmark in the blank below the panel.

Apply change, a book mark button will be shown on the control bar, click to select bookmarks.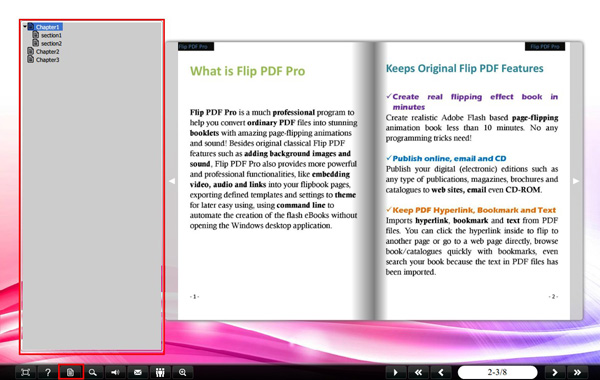 And also, you can directly import bookmarks if the original PDF file had some already. Just check the "Import Bookmark" button
when importing PDF file.