Designing Fantastic Page Flip Book with New Template – Pure Template
Date: November 22, 2012
Today is the last Thursday of November, time is flying. Do you know today is also a special day in American? It's US Thanksgiving Day. Even it's just an American festival, many people from other countries would also express thanks to friends, parents, teachers etc. And today we would like to express our thanks to our customers, so we especially pre-designed a new template for customers to design page flip book. The new template is Pure template, if you are using Flip PDF or Flip PDF Professional, you can go to the Online Templates to install and use it without paying anything.
Someone would ask what is Flip PDF or Flip PDF Professional, Flip PDF or Flip PDF Professional is easy flip software for people to easily convert PDF to flip book, flip magazine, flip catalog, flip shopping brochure. The flip book or flip magazine would have book appearance, page flipping effect and control bars. Especially the flip software of Flip PDF Professional would make flip book with embedding video, flash, photo slideshow, audio etc.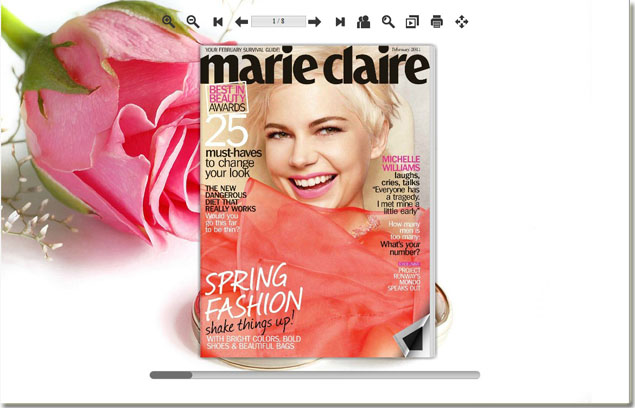 I don't know whether you have heard about "Imagine" from John Lennon, but the lyrics of this song can express my feeling about the festival "…imagine there's no countries, it isn't hard to do, nothing to kill or die for, no religion to…" Every day in unique and precious, seize the day to say what you want to say! Thanksgiving Day, in my opinion, it is a warming warn for people to keep a mind to have a thankful heart.
If you can see what I wrote here, it means that you're luckier than someone in the world. As you can still to discover new things and read these words in a peaceful place, and your life is also not bad. The new template we name it as "Pure Template", that's what we hope the world is pure and peaceful. The Pure Template has simple layout but meets your needs to carry out many functional features on page flip book or flip catalog, such as show or hide the main tools: share, thumbnail, search and so on.
Have a nice day!
Free download: Flip PDF
Would like to make flip book on Android, see: Flip PDF for Android